Extra-corporal shockwave therapy (ESWT)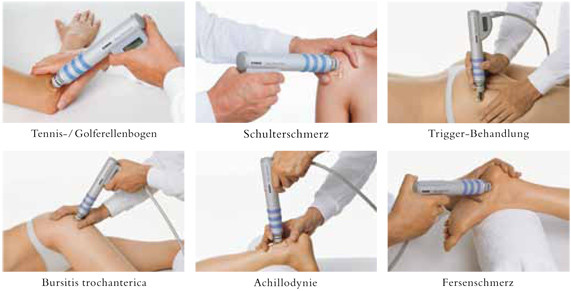 What is meant by shockwave therapy?
Extra-corporal shockwave therapy (ESWT) is an innovative, modern form of pain therapy. Shockwaves are high-energy sound waves that speed up cellular growth and improve blood circulation. As a result the body's own pain-relieving substances are activated and the healing process stimulated. The shockwave is released onto the skin via a transducer. The bundled shockwaves are then able to penetrate deeper for greater effect.
With which kinds of pain is it sensible to use shockwave therapy?
Shockwaves alleviate a number of orthopaedic ailments and chronic illnesses:
Shoulder pain
Tennis- or golf elbow
Calcaneal (heel bone) pain
Pain in the Achilles tendon
Jumper's or runner's knee
Non-healing bone fractures
Chronic tendon and muscle ailments
Trigger-point therapy
When does the result of the treatment become visible?
The pain usually subsides noticeably after 1–2 sessions. After only a few sessions most patients either report complete pain relief or an obvious improvement in pain relief. The regained freedom from pain and freedom of movement gives them their previous quality of life back.
Please note that this service is not generally covered by public medical insurance.